— English version below —
Hier gibt es nun endlich ein Tool, dass die nervigen Proxykonfigurationen überflüssig macht.
Wenn man immer unterwegs ist, und mal in dieser Firma, mal in einer anderen Firma, dann im Hotel, zu Hause, etc. und man jedesmal eine andere Proxykonfiguration benötigt, hilft mein neues Tool.
Der große Unterschied zu bestehenden Tools (und davon wird es sicher eine Menge geben) ist der, dass Proxy Switcher nicht nur ein Tasktray Symbol zum schnellen umschalten bietet, sondern dass Proxy Switcher automatisch, je nach Netzwerk, die Proxyeinstellungen setzen kann!
Dazu legt man einmalig die Proxyeinstellungen fest und definiert eine Bedingung, wann dieser Proxy aktiv werden soll. Als Bedingungen stehen derzeit zur Verfügung:
Eine bestimmte Gateway Adresse
Der DNS Suffix enthält eine bestimmte Zeichenfolge
Somit werden die enstprechenden Einstellungen aktiv, sobald man ein LAN Kabel einsteckt oder eine WLAN Verbindung herstellt die die entsprechenden Bedingungen erfüllt sind. Kein manuelles klicksen oder tippen mehr.
Also sofort downloaden: Download Installer
Requirements: .NET Framework 2.0 und Windows XP oder Windows Vista
Features:
Verschiedene Proxy Einstellungen per Klick abrufen
Plugin basiert um die Proxyeinstellugen von verschiedenen Anwendungen zu setzen die nicht auf Internet Explorer Einstellungen zurückgreifen können. Mehr dazu in einem der nächsten Posts.
Automatisches Switching von Proxies, je nach Netzwerkkonfiguration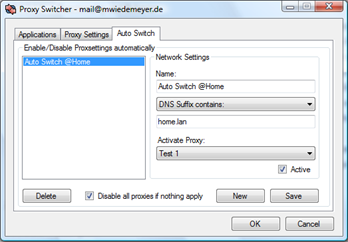 Änderungswünsche und Bugs bitte direkt hier in die Kommentare oder per Mail.
——————– ENGLISH ——————–
Proxy Switcher is a little helper tool for switching between different proxy settings.
If you are at many locations, e.g. at work, home, hotel, etc. you may be tired of setting (and remember) proxy settings for the different locations.
So, Proxy Switcher will assist you in remeber and easily switch between proxy settings. The major feature which is different from many other tools is, that Proxy Switcher can switch settings automatically depending on network connections.
To make this work, define a new proxy configuration and set a condition for activating it. Possible conditions (in this version) are depending on the DNS suffix (e.g. yourcompany.com) or on the gateway IP address. If you now connect you notebook to a network, the settings will activated automatically.
Another point is, that the application is Plugin-based. So if you have an application which cannot use the Internet Explorer settings write your own plugin for Proxy Switcher. More on this in one of my next posts.
If you have any questions or bugs, leave a comment or drop me a line.