Heute morgen ging es ab 7:30(!) mit dem Frühstück in einer Halle los, in der sonst wahrscheinlich Flugzeuge oder Raketen gebaut werden.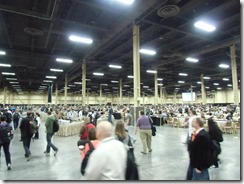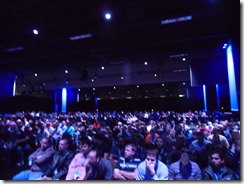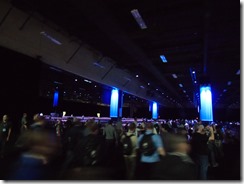 Dann anschließend in einer ähnlich großen Halle gab es die Keynote mit u.a. Jared Spataro, Jeff Teper und Scott Guthrie. Neben den bereits bekannten Dingen wurden auch die Windows 8 Apps für SharePoint und Yammer gezeigt. Insgesamt ist die Yammer Integration aber noch nicht wirklich eine Integration. Man springt klar von einer Anwendung zur nächsten, was das ganze in meinen Augen ziemlich User-Unfreundlich macht. Was aber klar wird: Microsoft setzt ganz extrem auf die Cloud. Dazu wurde z.b. gesagt, dass sie sich von dem 3-Jahres Releasezyklus verabschieden und in Office365 alle 90 Tage Updates einspielen.
Anschließend war ich dann in der Session "What's new for Developers in Office 2013 and SharePoint 2013". Dort gab es leider nicht viel Neues, sondern nur noch mal einen Überblick über die Möglichkeiten der Apps, die dann in Office, SharePoint und Outlook laufen.
Nach dem Mittag ging es weiter mit "What's new in Search for SharePoint 2013". Sehr interessant und insgesamt super mächtig was die Suche nun für Möglichkeiten bietet. Sei es beim Ranking, bei der Präsentation oder den Query Rules. Vor allem wichtig: Um die Suchergebnis-Seite und das Hover-Panel zu bearbeiten ist kein XSLT mehr notwendig sonder nur noch HTML/Javascript.
Danach war ich noch bei der Session "Building end-to-end apps for SharePoint with Windows Azure and Windows 8". Dort wurde eine Lösung gezeigt die fast alle neuen Technologien vereint und von Public Sites bis Windows 8 Toast/Tile Notifications alles hatte. Sehr cool. Allerdings fehlte leider die Zeit wirklich in alle Details zu schauen.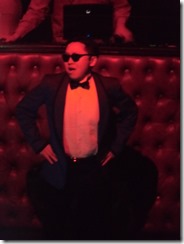 Heute abend dann noch bei der ClubSPC Party gewesen. Und Mr. Gangnam Style persönlich war da (oder zumindest einer der genauso aussah ;-)
Und zum Schluß noch ein Lacher: Woran merkt man, dass man auf einer SharePoint- (oder Allgemein einer IT-) Konferenz ist? An diesen Schildern.