Ok, the last version is almost 9 month old, but now I finally had some time to look through all comments on uservoice and now proudly present the new version.
What's new?
The major change is: SPSync now supports Office 365 authentication which means, you can finally use SPSync with SharePoint Online and SkyDrive Pro. Just select "Office365" from the authentication list and enter your username (user@customdomain.com or user@customdomainpart.onmicrosoft.com) and your password. Domain is not required.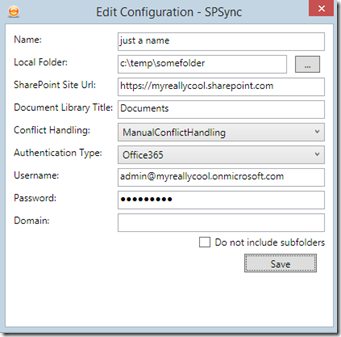 Also an issue with creating folders is now fixed and it doesn't matter anymore whether the title of a document library is not the same as the URL of the document library.
A reminder: The "Conflict Handling" is a setting just for conflicts. If you select "Overwrite local changes" it does not mean that a full sync is done. A conflict is if a file is modified locally and remotely. All other files are sync'ing independently from this setting.
Download the new version here: http://spsync.net and leave a comment or drop me a line at
support (at) spsync(dot) net