Wer versucht auf ein WebDAV Folder was mit Basic Authentifizierung geschützt ist mit Windows Vista zu zugreifen, der wird schnell merken, dass das so nicht geht.
Das Problem ist nämlich, dass Vista die Basic Authentication standardmäßig für unsicher hält (auch wenn die Verbindung SSL verschlüsselt ist).
Um dieses Verhalten zu ändern ist es nötig den Wert von
_HKLM\SYSTEM\CurrentControlSet\Services\WebClient\Parameters\BasicAuthLevel _auf 2 zu ändern: (hier im Bild steht der Wert noch auf 1)

Danach das System neu starten und über Map Network Drive das Laufwerk einbinden: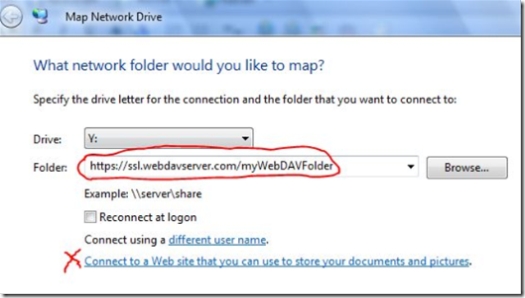 Wichtig dabei: Nicht über den Link "Connect to a Web site that you can use to store…" gehen, sondern die WebDAV URL direkt als Folder eingeben (siehe Screenshot).